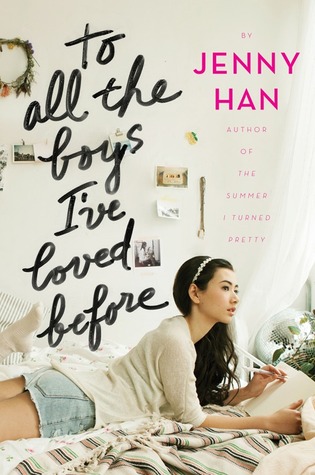 Release date: April
15th
, 2014.
"I want to say yes, but I don't want to be with a boy whose heart belongs to somebody else. Just once, I want to be somebody else's first choice."
Right now I'm staring at the blank page of Word thinking about how much this book is so sweet and pleasing to read. It was the perfect book, the one I needed to put me out of this terrible reading slump.
I was a little bit worried if reading this novel or not because I read the review of a blogger I trust so much and she said she hated it because of the sister falls in love with her sister's boyfriend and family is important. I mean?? How could she said that? THIS NOVEL PUTS IN THE FIRST PLACE FAMILY, okay? I know people have different opinions, but, personally, I didn't see anything she said in that review. Have we read the same book or not (lol)?
Jenny Han officially has become one of my favourite contemporary authors. And this is the first book I read by her! I plan to read the others too, but give me time, my TBR is SO HUGE I can see it reaches the clouds.
The plot: Lara Jean is sixteen and she never had a boyfriend. That doesn't mean she never fallen in love once, she has written all her crushes love letters, but never sent the letters to them. One day, all the crushes receive the letters because someone just sent them. Now Lara Jean has to face all the boys she had a crush on and fix this mess.
The plot is not so original, but neither cliché. It intrigued me, honestly, and made me want to read the book (like a plot should do).

• First, Lara Jean's family and herself are half korean and this is so refreshing and beautiful to have diversity characters who are not always American and a Korean girl people can relate to. There are books who have diverse characters, but their diversity doesn't count at all. I mean, how great is when you read a character who is struggling with the same problem you have, because you and this character are different? You feel less alone and happier about your diversity. The writer did it so well I could cry.

• Even if I'm not Korean or half Korean, I related so much to Lara Jean. Look, I'm 16, the same age she is, and I have never had a boyfriend. I was so happy to find finally a character who is like me, who has only had crushes on guys, but never dated them. Not every teenager goes to 16 and pregnant, guys.

• Did I just say how much Lara Jean would do for her family? Another thing I found myself similar to the main character was her love for her family, deep and pure. I love when books talk about families and not only about her love interest. Plus, in this book there is also sisters love and that is the one I love the most. Lara Jean has two sisters: Margot and Kitty. Margot left for college and Kitty is adorable. I also liked when sisters had fights because siblings fight, it made the book more real.

• That kind of from hate to love romance? I'm not a fan of insta-love, so this romance was pratically great for me. Almost all contemporary books have insta-love. I adore when the girl or boy falls in love with his/her love interest slowly and deeply.

• I'm in love with Peter Kavinsky right now. How sarcastic, sweet and lovely could he be?

• ALSO FOOD. I read this novel mostly at night and I was hungry all the time. Lara Jean loves baking and she eats Korean food a lot.

• It isn't a real dislike, but that bothered me and I have to say it. Jenny Han is great at presenting Korean food, in this novel, in the exactly way it is. But I can't say the same with Italian food. Yeah, I know they ate just like two Italian dishes, nevertheless, I can't accept people who ruin Italian food. Look, we Italians aren't patriotic, but it comes to people who ruin our food... I mean, that's the most thing our country is famous for and people even ruin it. Now I can't remember how such things they put in that poor pizza or lasagne, I can only tell I was screaming while I was reading. Of course this isn't the first book who has this kind of things in it, however another thing we Italians like doing is complaing about everything, so that's it.

• A more real dislike than the first one is Josh. His character wasn't definitely one of my favourites, I had a hate-maybe I like you relationship with him.
To all The Boys I've Loved Before is based on love, any kind of love: family love, first love, sisters love. It's not a great piece of literature, but it is a good fluffy contemporary.
And now the trailer!


Some thoughts about it:
Finally we have actors who look like teenagers and not 25 year olds who are pretending to be!!
How cute is Peter? I think I have a crush on him #sorrynotsorry
Yeah, I think he's the best among the actors. He gives me the Kavinsky vibe!
This movie is going to be so cute, oh my!
I have actually hope this is going to end well. Like, it could do justice to the book?!
I realised I have talked a lot about Peter, how could you blame me?
To all the people who haven't read this book series -pun not wanted lol-, go read it!
What I hope will be included:
All the fancy clothes Lara Jean wears because #style
FOOD. They must!
Peter. Kavinsky. Baking.
YEP.
Sassy Kitty.
Korean culture!!
Of course they changed the book cover, ugh:
But this is a nice cover! Although I hate movie covers, this one is very cute! What do you think?
What do you think about the trailer? Have you read the books? I have to read the third one, but I am going to read it soon!